Bonds – We value them over everything else in our partnership with our clients.
At JC, we believe that we can meet the essential needs of our clients, by proactively taking part in the communication support.
Therefore, we value the continuous sharing of information and mutual understanding about topics with our clients. This leads us to achieve the goals and targets of the client's communication needs, by supporting them as problem-solving partners.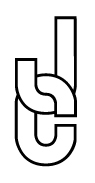 This is the reason why we value the bonds of partnership with our clients above everything else.
The JC corporate logo is made up of a J and a C tied to one another, which shows our belief in connecting with the client in a firm bond of trust and promise.
3 Elements for Enhancing the Service to our Clients
We insist on the following 3 key elements in order to enhance the incessant service to our clients:
Thought of Better Small & Smart than Just Big
A System Where All Managers and Staff are Placed into Teams
Effective selection of personnel, based on diversity
Thought of Better Small & Smart than Just Big

Quality over Quantity
As far as the communication support business goes, we don't think the idea of strengthening the organization of employees and pursuing rapid expansion of the organization is always necessarily related to the fulfillment of the communication service.
Our perspective on this is that, it might be a little bit difficult to enhance the services to our clients if each individual doesn't have the necessary skills and imagination.
We create teams that show the talents and abilities of each individual to the greatest extent, and through strengthening those teams, we can sustain the quality of service to our clients.
 Time is money
The communication support business centered on media relations, which always needs a fast and resourceful response for handling information, is similar to the fresh foods distribution business.  In recent years, this has become of a greater importance, as news spreads instantly across the world to the recipient. In order to enhance fast internal sharing, understanding and consensus, it is necessary to make teams composed of an appropriate-minimum number of members. Our teams are created based on the thought of better small & smart than just big, so that it enables us to offer both speedy and quality services to our clients.
System Where All Managers and Staff are Placed into Teams

At JC, excluding a few particular kind of projects, most of all managers and staff are involved in all the communication support for all of our clients. This is because we regularly create an environment where any staff can communicate with any of our clients, maintaining an environment where anyone can respond quickly as possible.
For that reason, we first assign the role of a key project leader to one person for each communication project. The leader is completely in charge of the client's communication service, and quickly shares this with the team members while making decisions on the fly when necessary.
Even when a project leader has minimal experience, team members with abundant experience support the leader, so that the quality of our services does not suffer.
Effective Staffing Based on Diversity

At JC, we have pursued hiring of only optimum talent, ideal for communication support.  As a result, we reached the way to value diversity without regard to gender, nationality, or communication-related business experience and high potential.
Today, with globalization, diversification of values, and the rapid progression of IT infrastructure, we believe that having adaptable ideas that do not completely conform to established ideas or methods, is a necessary talent for human resources in communication support, in order to seek out the ideal state of a strategic communication.
External Partners
In carrying out our communication tactics according to our clients' needs, we appoint technical writers, production companies, event operators, research agencies, website operators, and the best partners in each area with many achievements in the healthcare field and the business-to-business field.
Example of Our Support System